SHGTMstencil
This stencil can achieve the stable printing during the continuous printing against very small components and high aspect ratio..

Features
SHG has smoother opening side wall and sharpened corner-edge as compared to conventional
Stencil so that meet stable printing for high aspect ratio with very small components.
By adding PRO-coating on SHG on both opening side wall and pcb side of stencil, it could be given assisted reduction of the range of printed volume deviation in any range of aspect ratio.
HG stencil
HG stencil is more suitable for printing of SMT than standard laser cut stencil. It has smoother roughness of aperture wall than the standard laser cut stencil has. This stencil provides good-quality printing.

Main Features
shorter delivery times !
It is possible to correspond to fine pitch components as QFP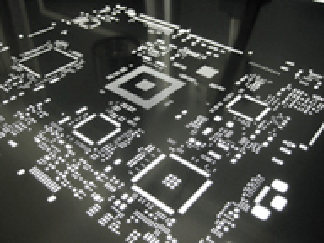 Aperture shape and wall shape of HG stencil

| | Ave. | Max. | 3σ |
| --- | --- | --- | --- |
| Ra | 0.4 | 0.4 | 0.2 |
| Rz | 5.5 | 7.9 | 4.4 |
| Rzjis | 2.9 | 4.4 | 2.5 |
Detail
Processing method
Laser cut and special treatment
Range of adaptation
0402㎜, 0.3~0.5㎜ PitchCSP,
0.3~0.4㎜ PitchQFP
Tolerance of aperture size
+-10μm
Tolerance of thickness
+-8μm
L/T
From 1 day to 3 days
Laser stencil
Standard stencil is possible to correspond to 0.3mm~0.5mmpitch components and small components such as 0603mm components for high density printing. It also meet shorter delivery time.

Main Features
Provide a short delivery time!
Fine pitch , small size
It is possible to print small size components.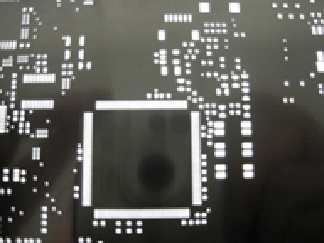 Aperture shape and wall shape of standard Laser cut stencil

| | Ave. | Max. | 3σ |
| --- | --- | --- | --- |
| Ra | 1.1 | 1.5 | 0.7 |
| Rz | 6.8 | 8.0 | 2.4 |
| Rzjis | 5.6 | 6.8 | 2.3 |
Detail
| | |
| --- | --- |
| Processing method | Laser cut |
| Range of adaptation | 0.6mmPitchCSP,0.5mmPitchQFP |
| Tolerance of aperture size | +-10μm |
| Tolerance of thickness | +-8μm |
| L/T | From 1 day to 3 days |